Concrete Breaking and Removal
We have the right tools to remove and dispose of all concrete and asphalt.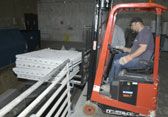 Concrete typically weighs 150 pounds per cubic foot. In order to safely move pieces of concrete, it usually requires powerful equipment to cut, break, and move. Since we have the ability to remove large pieces, we can typically reduce cutting costs. When disposing of concrete, there are two primary disposal methods. Disposal to a landfill by way of dump trucks or dumpsters is the 1st method. The 2nd method is crushing recycling plants. Some crushing plants will not accept concrete that heavy reinforcing. We try to use the recycling plants as much as possible. Let us arrange disposal and removal for you. For small loads, we have dump trailers that we can use for disposal.
An additional byproduct of sawing is slurry. Slurry is a water and "grindings" that needs to be disposed of properly. We have slurry processing methods that make it safe for disposal. Ask your salesman to have our crews to collect and haul the slurry offsite.
Whether it's demolishing buildings, concrete foundations, highways, streets, parking areas, or driveways, we have the expertise and equipment to get the job done efficiently and safely. With our state-of-the-art tools and commitment to safety, you can trust Ohio Concrete to handle any concrete demolition project.
Ohio Concrete Cutting removed over 1.2 million pounds of concrete from the University of Michigan Medical Center. This was done using entirely electric tools and excavators. The use of electric tools eliminated carbon monoxide fumes and minimized the noise. Sawing also eliminates excessive vibrations normally associated with hammering removal.
Featured Project: Concrete Removal 129' Tall Smoke Stack
Location: The Breakers Hotel, West Palm Beach, Florida
Our sister-company, ABC Concrete Cutting Inc. was contracted by The Weitz Company to remove a smoke stack which was part of the original construction of the Breakers Hotel built in 1929 when the boilers were powered by coal.
The smoke stack structure was 129' tall, 16' at the base and 10' at the top, and was made of concrete and brick.
The demolition project took a little less than two months to complete while in the midst of hurricane season.
A wind meter was installed at the top of the scaffold to monitor wind strength. If winds reached above 50 miles an hour the project was shut down. If they reached over 80 miles an hour the scaffold would have to be disassembled....fortunately, the winds never got above 50 miles per hour during the operation.
The steel bands were the tricky part! ABC Concrete Cutting installed ratchet straps above and below each steel band prior to cutting them, not knowing whether or not the wall would come apart and collapse the structure after cutting the bands. This was especially critical due to the fact an adjacent building was in use during the entire process.
Additional Project:
Concrete Stack Demolition and Removal